Natural Treasures
Arboretum in Budafa
The arboretum is situated about three kilometres from Kistolmács, Kiscsehi and Bázakerettye. You can get there from Bázakerettye and from the direction of Kiscsehi partly on an asphalted road, from the direction of Kistolmács on the blue-cross tourist route.
The forests of the arboretum in Budafapuszta belonged to the Zichy family long time ago. The hunting castle there was built in 1926; a small park and a pond were made around it then.
After the nationalization of the manor in 1954 the arboretum was built on the one hand for public welfare purposes, on the other hand to help acclimatize tree species from unknown areas and distant continents. A new area was built connecting to the old castle park, and the existing pond was renewed as well. 132 types of pine-needled and 88 types of leafy trees were planted in the park. The arboretum becomes a real fairy garden in spring when azaleas bloom; silver fir, sequoia and cypress populations give you a special spectacle all year long.
As a result of the droughty weather period between 2000 and 2004 the damage of common house borer beetles caused a large-scale destruction of spruces meaning the centre of the arboretum on an almost 10 hectare area. Since then trees and shrubs resisting the damage of common house borer beetles have been planted in the place of dead trees.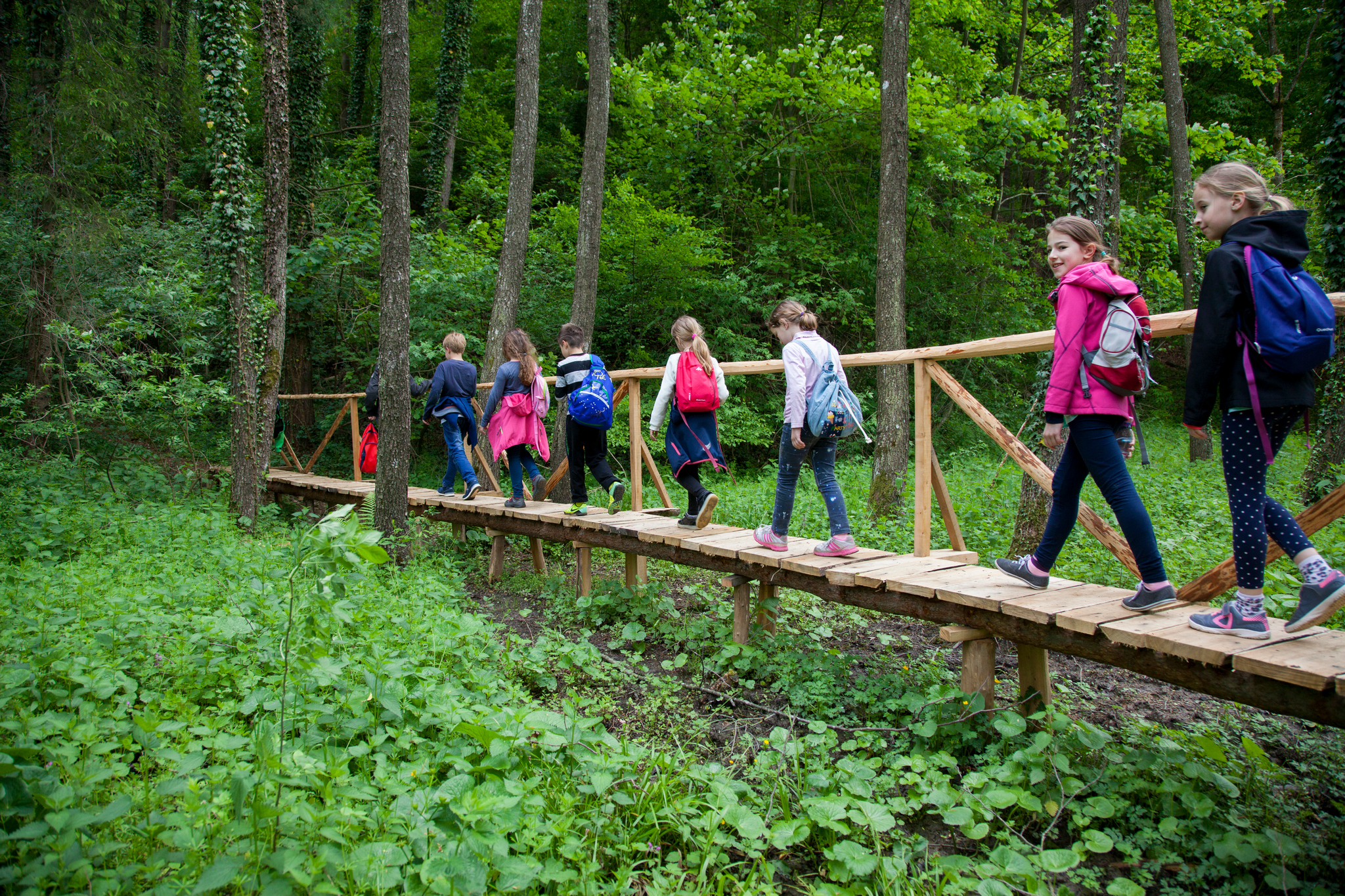 Zalaerdő PLtd has had the hunting house renovated, a playground, open-air fire places, sculptures and memorials were built as well in the arboretum in the past years. A memorial marks the place of the Budafapuszta Nr. 1 drilling where gas mining was started in Hungary for the first time on 9th February 1937.
Acorn Adventure Playground
We thought of the youngest ones when we built the Acorn Adventure Playground in the heart of the Arboretum several years ago. The toys of our playground were made of acacia wood, with unique wood carving: acorn-tower play castle, an adventure jungle-gym system and a balance path system, a spring longhorn beetle, an acorn slide tower and a climbing wall, an acorn rope tower, a spider web tube and a swaying swing bed welcome kids.
Opening hours:
From 2nd April to 30th August
• Wednesday: from 10 a.m. to 4 p.m.
• Saturday and Sunday: from 10 a.m. to 5 p.m.
(On 20th August: open)
You are not allowed to use the open-air fire places for an unspecified period!
For further information
Forestry Company in Letenye
Address: 10 József Attila Street, 8868 Letenye
Phone/Fax: +93544900
E-mail: letenye@zalaerdo.hu
---
Gallery